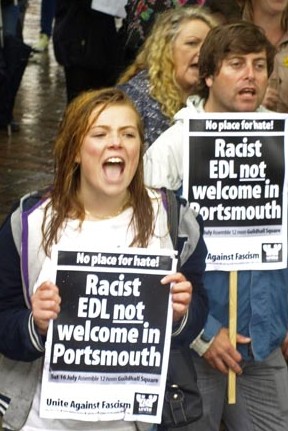 City leaders have condemned English Defence League protesters who marched through Portsmouth – telling them: "Don't come back". The clear message came after hundreds of EDL members snaked through the city centre on Saturday as part of a planned protest.
Organisers had promised a peaceful event and deny their campaign has racist undertones. But there were ugly scenes at times as the event threatened to spill over into violence. At the very start of the march police had to stand firm to stop EDL members surging forward before the official start time.
Some of the group of around 500 marchers were heard spouting vile racist abuse and making insulting references to Allah. At one point some of the marchers paused to jeer at an Asian family who had stepped onto their balcony to see the parade pass by.
Some EDL members made a beeline for a scaffolding van in a bid to grab poles, but were thwarted by police. And at the end of the event police averted a potential clash as marchers tried to get into Guildhall Square where anti-fascist protesters had gathered for their own rally in defence of multiculturalism.
Saturday saw seven arrests of EDL supporters on suspicion of crimes ranging from public order offences to assaulting a police officer. Two "counter protesters" who were among 150 people taking part in the demonstration in Guildhall Square were also arrested but released without charge at the scene, Hampshire Constabulary said.
EDL marchers travelled from all over the country to take part in the march, the first of its kind in Hampshire. Supporters came from divisions including those in West Yorkshire, Berkshire, London, Plymouth, Essex, Brighton and Colchester. Hampshire police mounted a huge operation involving around 400 officers after similar events elsewhere in the country had sparked trouble.
After the march, MP Mike Hancock said he did not ever want to see the group in Portsmouth again.
"I don't want to see them here at all," said the Liberal Democrat MP for Portsmouth South. "I would much prefer if they came nowhere near us. But sadly they have persisted in doing it. I think they are pointless.
"I hope they will now leave Portsmouth and not come back. What I don't get is how people want to come all the way from Plymouth to demonstrate on the streets of Portsmouth. It must have been five or six to one people from outside the city."
His views were echoed by city council leader Gerald Vernon-Jackson, who was in the city centre on Saturday as he watched the protest unfold.
He said: "We don't want it here. I wish they would leave Portsmouth alone. On the whole people get on well between communities. They all mix up pretty well. In lots of other cities there are areas where different communities live. We have a well-integrated city and that's how we should remain."
See also "Portsmouth antiracists take over square in protest against EDL", UAF news report, 17 July 2011