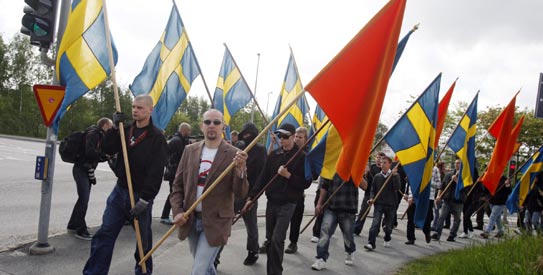 National Democrat protestors make up for lack of numbers with lots of flags
Hundreds of proponents and opponents held rallies in Sweden's second-largest city Goteborg on Saturday to voice their opinions over the building of a mosque there.
Heavy police presence kept the two groups appart and a spokesman for the force said only one person had been arrested for violent behaviour toward an officer. It was the biggest police effort in the city since the EU Summit in 2001, when several thousand people gathered to protest against U.S. President George W. Bush, the EU and globalization.
Mosque opponents claim the construction will ruin a nearby park and that the area is not suitable, while supporters say the opposition is racist. The mosque – which will be the city's second – is due to be completed in mid-June.
---
The anti-mosque demonstration involved the National Democrats and the Swedish Defence League – the sister organisation of the EDL, who sent a delegation. But the National Democrats reportedly refused to co-operate with the SDL who they regard as pro-Zionist.
The National Democrats, who split from the far-right Sweden Democrats in 2001 because they opposed the party toning down its racist rhetoric in the interests of electability, distributed a leaflet headed "Warning! Sweden is occupied by a foreign power!" which claimed Islam was responsible for suicide terror attacks, rape gangs, child marriages and robbing pensioners.
The counter-protest was organised by Göteborg Against Racism and the Left Party. About a hundred people joined the anti-mosque protest and they were met by 700 counter-demonstrators, according to police figures, though the organisers put the figure at over 2,000.