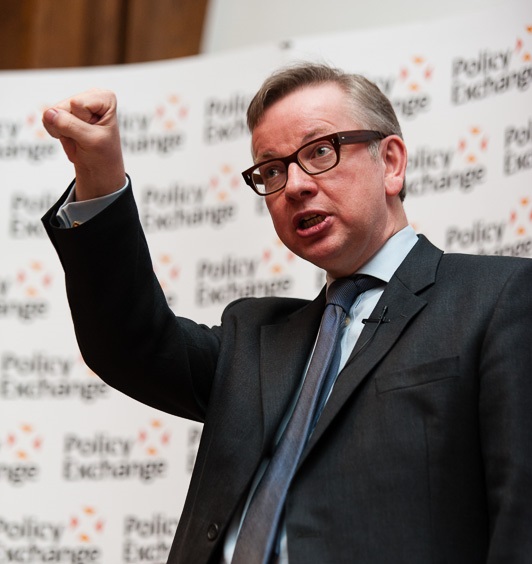 Michael Gove has called for a "robust" defence of liberal values in the face of the challenge from Islamist extremists. The education secretary said it was essential that extremists were denied a platform in schools and other public institutions to push their agenda.
Speaking on BBC1's The Andrew Marr Show, Gove defended his decision to appoint the former Scotland Yard head of counter-terrorism to lead the investigation into the so-called "Trojan horse" plot by Islamists to take over schools in Birmingham.
"Islamism is a perversion of Islam in the same way that communism was a perversion of socialism and fascism is a perversion of nationalism," he said. "If liberalism is to survive – and I believe liberalism is the way in which we approach these issues, liberal values are our best protector – we need to be robust.
"We need to challenge those views and we need to make sure that people who have views that are inimical to liberal values and wish to use institutions to push an agenda which is inimical to liberal values are not in a position where they can use public money or the public square in order to push their views."
Gove acknowledged that his decision to appoint Peter Clarke, formerly the country's top counter-terrorism officer, to head the Trojan horse inquiry had been controversial, but said he believed it was correct. "The view that I took was that if you have a police officer of unimpeachable integrity to do these investigations, if people at the end of this process are cleared, given a clean bill of health, that is the most effective way of ensuring that public confidence can be restored," he said.
He said the inquiry had raised important questions – including for both the Department for Education and the local authority in Birmingham. "There are broader questions about the extent to which these activities were coordinated and the extent to which those responsible for those activities may have had a broader agenda," he said.
Press Association, 6 July 2014
---
Gove told Andrew Marr: "When we talk about Islamism, that particular form of extremism, the prime minister was very clear in the speech that he gave at the Munich Security Conference in 2011 that there are thinkers, people like the founder of the Muslim Brotherhood, Hassan al-Banna, Sayyid Qutb, and Maududi the founder of the Jamaati movement in South Asia, who take traditional Islamic doctrines and twist them into a political message, which they seek to impose."
In reality, David Cameron's 2011 speech made no specific references to Hassan al-Banna or Maulana Maududi, never mind Sayyid Qutb. He spoke in general terms:
"Islamist extremism is a political ideology supported by a minority. At the furthest end are those who back terrorism to promote their ultimate goal: an entire Islamist realm, governed by an interpretation of Sharia. Move along the spectrum, and you find people who may reject violence, but who accept various parts of the extremist worldview, including real hostility towards Western democracy and liberal values."
Whatever Cameron meant by this, Gove's position is quite clear. He misrepresents mainstream Islamists, whose distinguishing feature is precisely their commitment to the democratic process, as extremists who pose a threat to democracy.
Gove asserts that it is necessary to ensure that these proponents of democratic Islamism "should be not in a position where they can use … the public square in order to push their views". Some defence of "liberal values".