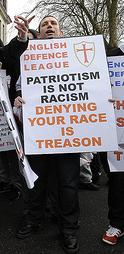 Greater Manchester Police's chief constable says he may seek to ban a march by the English Defence League (EDL) over fears it could spark unrest.
Peter Fahy is to meet Tameside councillors to discuss whether to apply for a Home Office ban for Saturday's proposed march in Hyde.
The protest follows an attack on Daniel Stringer-Prince who suffered a broken eye socket and fractured skull. The EDL said the march was a national protest against extremism.
Mr Fahy said: "We are concerned that there could be a threat to peace and order. The attack was an awful crime but I'm not sure we need outsiders coming in and clearly the fear is that they are just exploiting the situation."
Mr Fahy said police would be talking to the council about whether to apply to ban the march although he added the EDL were legally entitled to stage a static protest. "It is a very serious issue and the Home Secretary only uses this power to ban marches on very limited occasions," said Mr Fahy. He added that the Home Secretary had to decide if the march could cause a risk to disorder or major disruption to life in the community.
A statement on the EDL website said: "Our reason for demonstrating in Hyde is not to further divide communities or win support for racial politics. That is why we wish to make it abundantly clear that the British National Party, or any other group with a history of racial politics or racist ideas, will not be welcome at our demonstration.
"Our reason for demonstrating in Hyde is to protest about the government, the media and the Muslim community's continued inaction in the face of violent extremism and intolerance."
See also "Family of Hyde 'race attack' victim Daniel Stringer-Prince urge English Defence League to call off protest", Manchester Evening News, 20 February 2012