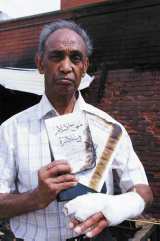 A brave caretaker was hurt as he risked his life to save a mosque torched by arsonists in the second petrol bomb attack in a week.
Mohamed Koheeallee, 62, raced to tackle 7ft flames at the Greenwich Islamic Centre in Plumstead Road at 12.15am on Tuesday. Grabbing a bucket of water, he extinguished the fire as it spread inside but when he opened a fire exit, he was engulfed by flames burning his arm and his face.
Choking with smoke inhalation and despite his injuries, he carried on dousing the fire until the mosque was safe but when he tried to tackle the source of the blaze he was pushed back by its intensity.
Holy texts, including the most sacred in Islam – the Koran – were burned.
Mr Koheeallee, who believes the attack was racially motivated, was taken to Queen Elizabeth Hospital by ambulance to be treated for smoke inhalation and burns and was later discharged. He said: "It makes me feel really bad to see the burnt holy scriptures. If these people have a problem they should be brave enough to say it to my face, but not like this."
The caretaker had also dealt with another arson attack at the mosque which had been less serious but had taken place a week before at approximately the same time of night.
The centre's director, Dr Tariq Abbasi, said "enough is enough," and has called on the new Greenwich borough commander Richard Wood to take action.
Dr Abbasi said: "This is as bad as it can get. Nobody deserves this. Seeing burnt copies of the Koran, the emotional impact has been devastating.  Monetary loss is one thing, the building can be re-built, but the emotional scars can last for years. The Muslim community see this as a racist attack on a place of worship."
He said a racist minority may have been encouraged after BNP members won seats in the European elections.
Via ENGAGE  See also Asian Image, 18 June 2009
In the European elections the four London boroughs in which the BNP registered its highest votes were Barking & Dagenham 19.3%, Havering 14%, Bexley 12.3% and Greenwich 8.4%.
Update:  See "CCTV images released after Mosque fire", Bexley Times, 31 July 2009