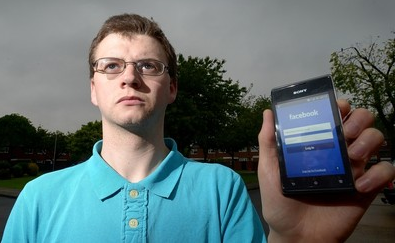 The man who posted a message on Facebook urging people to "burn the mosque" to "put Grimsby on the map big time" has urged people to think twice before using social networking sites. Steven Ballard apologised for the offensive remark he left on the forum which resulted in him ending up in court.
He is due to be sentenced at Grimsby Magistrates' Court next month after admitting leaving an offensive or menacing message on there the day after the killing of Drummer Lee Rigby, in Woolwich, London, on May 22.
The Mayor of North East Lincolnshire, Councillor Peggy Elliott, condemned his actions, saying it "does not show the true face of North East Lincolnshire", as reported.
But, today, Ballard, 27, of Churchill Way, who trained to be a soldier after leaving Wintringham Oasis Academy, stressed he was not a racist. He said: "It was an outburst. I am sorry for it. I was just angry that a young lad had been killed. My brother is a soldier and I wanted to be a soldier. That is how my anger was aimed. It was not aimed at Muslims. It (the message) was shoddy and stupid. It was a knee-jerk reaction." He warned others to "think twice" before reacting on the spur of the moment on social networking sites.
As reported, Ballard was the second local man to be hauled before the courts in just two weeks for posting offensive comments about the mosque on the social networking site – and appeared just a day after a third man was remanded in custody charged with firebombing the Weelsby Road venue last month.
He added: "I wrote a letter of apology to the judge. There was also a reference but I don't want to say who from because I don't want to drag anyone into the mess I have made."
Ballard said he was not aware of the potential influence of The English Defence League website forum which he joined. He said: "I did not intend for everyone to see it. I did not know what the EDL stood for. It made me feel worse about the comment later. They are extremists. I did not know what they were all about."
He said he is fearful he could lose his rented Shoreline home because his actions could be deemed as discrimination and he was also worried about reprisals.
Ballard was prosecuted under The Communications Act of 2003 for sending a message which was either offensive, indecent, obscene or menacing. Ballard said: "It does not say anything about being racial."
He told how he did basic training with the aim of becoming a soldier and also toured the battlefields of Belgium. He said: "You appreciate more the actions of the servicemen when you read their stories and how they stuck together."
Grimsby Telegraph, 22 June 2013
It is quite disgraceful that his local paper has provided Ballard with a platform to spout this self-justifying bullshit, in what is clearly an attempt to influence the sentence he receives when he returns to court. How can he seriously ask anyone to believe that his call to burn down a mosque was "not aimed at Muslims"? As for Ballard's claim that he "did not know what the EDL stood for" and was shocked to find they were extremists, how can that be reconciled with the statement by his defence lawyer that Ballard's comments on the Grimsby EDL Facebook page "were made to people he regularly interacted with and were not designed to be seen by wider groups of people"?