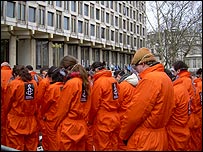 A British boy whose father has been detained at the Guantanamo Bay camp delivered a letter to Downing St, ahead of a protest outside the US Embassy.
Anas el-Banna, 10, handed in his fourth letter to Tony Blair, reflecting the years his father had been held. He was accompanied by MP Sarah Teather, as campaigners marked the fifth anniversary of the camp's opening.
The demonstration was one of a number organised around the world by human rights group Amnesty International. A petition was also handed in.
More than 300 protesters gathered outside the US embassy for the hour-long demonstration. They were dressed in orange boiler-suits, as worn by prisoners in the early stages of the camp, as well as blindfolds, goggles and face-masks.