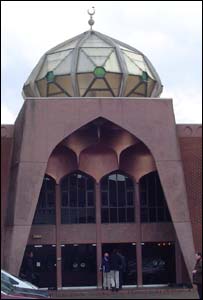 A man has admitted to threatening to blow up Glasgow Central Mosque, and behead one Muslim a week until every mosque in Scotland was shut down.
The proceedings at Glasgow Sheriff Court regarding Neil MacGregor, who sent the threats to Strathclyde Police as a National Front member, are reported in the latest edition of the Digger and have caused extreme alarm in the Muslim community.
Osama Saeed of the Scottish-Islamic Foundation said:
"I hope that he is dealt with in exactly the same manner as an extremist who was Muslim would be.
"This latest episode underscores the need for effective action tackling Islamophobia. The far right use fear of Muslims as a cloak for their old overt racism. They should realise they follow the same ideology as Al-Qaeda when they target an entire community for violence."
Bashir Maan, President of Glasgow Central Mosque said:
"I'm surprised there hasn't been more coverage of this. I could imagine the controversy and analysis there would have been if he had been a Muslim doing this to non-Muslims."
Last year in Glasgow, Mary McKay was sentenced to six years for stabbing a Muslim man in the chest. She said: "I hope the guy is dead. I just stabbed a guy with the same colour of skin as a terrorist. I just saw the two Pakis and he had an NY on his top."
Mosques across Scotland have been subject of attacks. As well as in Glasgow, this includes Edinburgh, Falkirk, Bathgate and Stirling.
The last Scottish Government Social Attitudes Survey found that half of Scots saw Muslims as a "cultural threat" to the country.
In the recent past, far right extremists have been found guilty of possessing explosives and planning to use them, for example Robert Cottage and Martyn Gilleard.