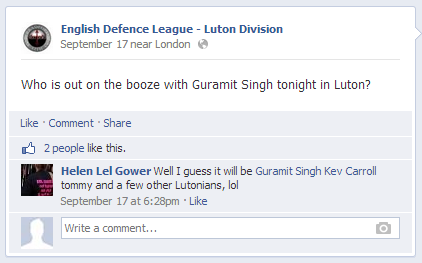 Last week Guramit Singh Kalirai, at one time a leading figure in the English Defence League, was sentenced to over six years in prison for his part in a violent attack on a shopkeeper during an attempted robbery. Kalirai wasn't in court because he absconded ahead of the trial. A warrant is now out for his arrest.
EDL leader Stephen Lennon assured BBC News that Kalirai was no longer involved with the organisation. As is shown by the above screenshot (via United Against Racism) this doesn't appear to be strictly true. Hel Gower, PA to Lennon and Kevin Carroll, reveals that Kalirai met the two EDL leaders in Luton on 17 September.
It is difficult to believe that their conversation didn't involve any mention of Kalirai's plans to evade justice. Yet there's no indication that Lennon or Carroll reported his plans to the authorities. No doubt the police will be inquiring into this.