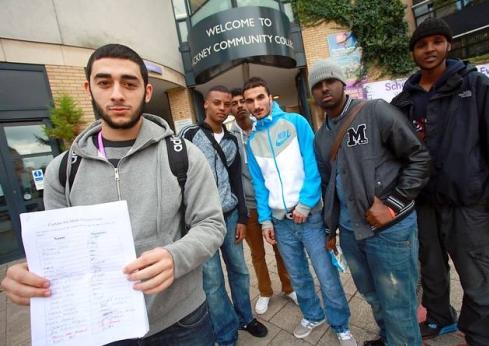 Kamil Alp and fellow Hackney Community College students are campaigning against the removal of the curtain in their prayer room.
They have accused chiefs at Hackney Community College in Falkirk Street, Shoreditch, of "discrimination" after it took down the drapes in the college's multi-faith facility.
But the college says the room is for students and staff "of all faiths and none" and its actions are in line with its values of equality and inclusion.
A group of students have now started a petition demanding the curtain be replaced and have so far collected 30 signatures, including men and women of different faiths.
"Having the curtain is important because in Islam the men and women have to prostrate to pray," said business student Kamil Alp, 20. It's very inappropriate if a man does it in the presence of a woman when she is also prostrating."
Several years ago, some students erected their own dividing curtain to support segregated prayer. But it was removed by college staff.
Kamil, said many Muslim students were being forced to pray in the corridors. "I feel discriminated against as they have given us the prayer room but are not letting us use it in the way we need to", he added.