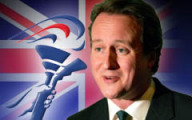 David Cameron is to call for a ban on public handouts to Muslim extremists. And the Tory leader wants anyone who "rejects democracy" barred from sitting on public bodies.
Last night he also called on the Government to step up action to keep extremist preachers out of Britain, saying: "Terrorist apologists should be kept out, full stop, period."
Mr Cameron told a leading Jewish charity that too many fanatical groups were still getting public funding. He accused Labour ministers of "taking their eye off the ball" in the fight against extremism.
In a speech to the Community Security Trust, which helps protect the Jewish community from anti-semitic attacks, he said: "The Government has allocated hundreds of thousands of pounds to local authorities to improve community cohesion. But there are worrying signs that ministers have taken their eyes off the ball."
He cited examples of councils handing out cash for community projects that ended up going to extremist groups, including Hizb-ut-Tahrir.
Mr Cameron said that extremism was not confined to any particular religious or ethnic group. "During protests against the conflict in Lebanon, we witnessed the nauseating sight of well-scrubbed, middle class English people marching through central London holding placards that read 'We are all Hizbollah'. That is the extremist mindset in action."
The nonsense about "councils handing out cash" to Hizb ut-Tahrir is evidently a garbled reference to a recent debate organised by Anas Altikriti's Cordoba Foundation at the London Muslim Centre (see here and here), at which Lord Ahmed and Osama Saeed opposed the HT view that Muslims should not involve themselves in electoral politics in the UK.