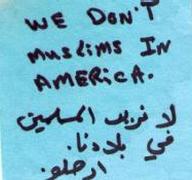 A hate message was left on the car of a Muslim family while they were inside a business in Redmond, the Washington state chapter of the Council on American-Islamic Relations (CAIR-WA) said Tuesday.
CAIR-WA said a Muslim mother reported that she found the message, which said, "We don't [want] Muslims in America" in English and "We don't want Muslims in our country, go away", in Arabic, stuck to the family's vehicle when she returned to it Monday afternoon after visiting a Redmond Starbucks.
"I can't believe someone could hate me because of my religious beliefs," the victim told KIRO 7. She asked us not to use her name or show her face.
The Muslim mother, who was with her 9-year-old daughter at the time of the incident, wears an Islamic head scarf.
Earlier this month, CAIR's Michigan chapter called on state and national law enforcement authorities to investigate an incident in which a vehicle was vandalized and defaced with a racially-derogatory phrase and profanity.
CAIR-WA Executive Director Arsalan Bukhari said a coalition of some 60 interfaith and community leaders recently asked Everett Community College to drop an "Islamophobic" speaker scheduled to appear Thursday as part of an "Islam in America" lecture series.
Bukhari said that a growing number of hate incidents targeting American Muslims, those perceived to be Muslim and Muslim institutions have occurred in the days since the death of Osama bin Laden.
"Some of the issues we see happening are an increase in rhetoric against Muslims and an increase in mainstreaming of anti-Muslim speech," Bukhari said.
CAIR-WA held a news conference Tuesday afternoon with the Muslim mother and her daughter to talk about the incident.
The victim said she isn't angry about the note, but she's shocked that it would happen in a community she's grown to love. "We are just regular people, and I hope this person realizes that they can't make us afraid to go out and live our lives regularly," she said.