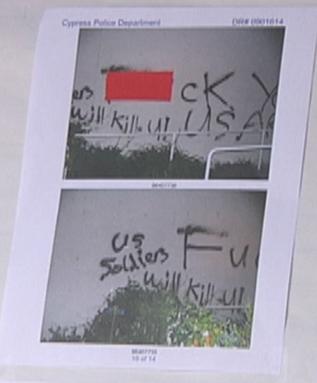 A Southern California mosque was vandalized with graffiti including expletives and threats early Thursday, shortly after President Barack Obama's address in Egypt to the Muslim world.
A police officer on patrol at 4 a.m. spotted the hate messages painted on the front wall of the Islamic Center of Cypress, said Sgt. Tom Bruce. The paint was still wet, he said.
Rusty Kennedy, executive director of the Orange County Human Relations Commission, said the graffiti was about 4 feet or 5 feet tall and spread over up to 30 feet of the wall.
In an e-mail to Muslim-American community leaders, Kennedy reported that the graffiti read in part: "We will kill you all" and "U.S. military is going to kill you all."
Kennedy said it was likely the graffiti was prompted by Obama's outreach to the Middle East. The vandalism occurred about an hour after Obama's speech at Cairo University in Egypt aired live on the West Coast.
"I think that in the realm of hate crime you see there is often a reactionary element to it, so the Obama initiative … may very well have been what triggered this hate crime," he said.