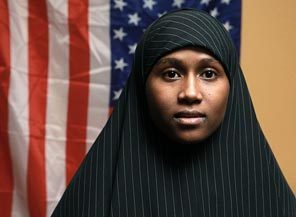 In the three years she's worked as a shuttle driver for Hertz at Seattle-Tacoma International Airport, Zainab Aweis, had always taken time out of her shift each day to pray.
An observant Muslim, she prays five times a day – with one, sometimes two of those prayer times falling during her shift. "That was the one benefit of the job," the 20-year-old said.
On Friday, she and 33 other drivers – all of them Somali Muslims – were suspended indefinitely from their jobs after they took religious breaks to pray while at work without first clocking out. A spokesman for Teamsters Local 117, which represents the workers, said it is trying to get the workers back on the job.
While the drivers were allowed two 10-minute breaks during their work shifts during which they could pray, Teamsters officials said managers had agreed in negotiations that workers would not have to clock out and in, though the contact itself does not address the matter.
And the workers and their union said Hertz had previously not required that workers clock out for prayer. The union said it has filed an unfair-labor-practices complaint with the National Labor Relations Board against Hertz for failing to notify the union in advance of what it called a policy change.
On Wednesday, a few dozen people from area labor and faith organizations protested on behalf of the workers outside the Hertz counter at the airport, waving signs saying, "Respect me, Respect my religion."
The Teamsters represents about 79 drivers at Hertz – about 70 percent of whom are Muslim – earning between $9.15 and $9.95 an hour. They receive no health benefits, vacation or sick leave.
Aweis said she was not aware the rules had changed until she arrived at work on Friday and managers told her and six other women who were about to pray that several other workers had been sent home that day for praying.
"He said, 'If you guys pray, you go home'," Aweis recalled. "I said, 'Is that a new rule?' And he said, 'yes'." They prayed anyway, she said, contending that managers stood over them taunting and disrupting them.