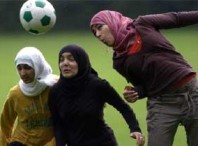 Scotland's first female Muslim football team has been prevented from playing competitive matches after soccer chiefs imposed a worldwide ban on wearing religious headdress during games.
Ansar Women's FC, from the east end of Glasgow, were looking forward to their first league games this summer, until it became clear they could not play while wearing their hijab headscarves.
The decision was taken by the International Football Association Board (IFAB), the game's ultimate decision-making body, and part of FIFA. Law 4 of the sport's regulations restricts a player's kit to a shirt or jersey, shorts, socks and footwear.
Zuby Malik, a Glasgow-based sports worker and coach of the team, said it appeared to end hopes of Ansar Women's FC being admitted to the Scottish Women's Football Association league. Malik said:
"It is ridiculous that I will have to tell the girls that they won't be able to join the league because of this nonsensical ruling. The majority of the girls in our team wear the hijab and it is completely unfair to ask people to choose between their faith and sport. Quite rightly their religion will always come first."
Malik said London giants Arsenal had already expressed an interest in one of their players. "There is so much talent in the Asian community in Scotland, but this sends out the signal that football is not for them. Asians are already woefully under-represented in Scottish sport and this is another huge blow."
The 27-year-old coach said there was no justification for banning headscarves and turbans. "There appears to be no logic at all behind this ruling. I don't see how anyone could be injured through wearing a hijab or a turban or how it affects their game in any way."