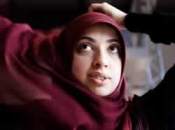 A debate has been heating up among Danish viewers over the appearance of the first hijab-clad talk show presenter on the Danish television.
Asmaa Abdol-Hamid, a 24-year-old Danish Muslim of Palestinian origin, appeared last week on the DR2 network to host an eight-part programme on the fallout of Danish cartoons lampooning Prophet Muhammad. The female Muslim host has been selected to co-present the talk show with Danish reporter Adam Holm, an ardent proponent of press freedom, debating on Danish society's pressing issues.
The appearance of hijab-wearing Asmaa has drawn mixed reactions from Danish women's groups. Feminist Forum, a Danish women's organization, said Abdol-Hamid's TV presence "strengthens ethnic and gender equality in Denmark". But another feminist group, the Women for Freedom association, echoed a different stance. "The choice of Asmsa Abdol-Hamid (…) is an insult to both Danish and Muslim women," claimed Vibeke Manniche, the association's head. "She sends the signal that an honourable woman cannot go out unless her head is covered."
But DR2 network defended its decision to allow Asmaa's TV presence, saying "headscarf-wearing women are part of Danish society and we need to accept this fact".
See also Daily Times, 5 April 2006