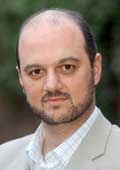 In what was an almost unprecedented representation of all facets of Britain speaking from the same stage, the rally co-organised by the British Muslim Initiative and Liberty on Monday, 20th of November, unequivocally condemned the recent spate of attacks on Islam and Muslims, and pledged to fight the erosion of civil liberties and freedom of thought and conscience.
The hundreds who attended the event at the Westminster Methodist Central Hall listened to the Mayor of London Ken Livingstone, as well as representative from the Labour, Conservative, Liberal Democrat, Respect and Green Parties, speakers from the Christian, Muslim,Jewish and Sikh faiths as well as delegates from trade unions, the anti-war movement and the world of media and arts.
Anas Altikriti [pictured], spokesman for BMI who chaired the event, said afterwards: "The line-up said it all. Muslims do not stand alone in facing the barrage of racist attacks levelled against them, nor do others of any faith or of thought who see what is dear to them being systematically disparaged and compromised. Despite the broad spectrum from which the speakers came from, the message was almost one and the same: the people of this country will not stand by and watch the Muslim community or any other, be attacked, vilified, demonised or marginalised by a minor sector laden with either ignorance or racist tendencies, or possibly both".
Altikriti added: "It was fascinating to see that almost all the speakers touched on the problem we all faced with politicians and the policies we have both at home and overseas in creating the present climate and exacerbating the problems faced by Muslims and many others and allowing the extreme-right and the racist elements in society ground to spread their rhetoric and deeds of hate."
The rally will serve as a first step towards holding a conference by the end of January from which a new broad and far reaching formal coalition will emerge to defend freedom of religion and culture and tackle the problem of Islamophobia, unanimously condemned last night as the new face of racism in our midst.
BMI news report, 21 November 2006
See also Mathaba.net, 21 November 2006