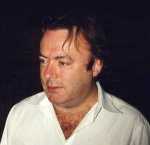 In the Winter 2007 issue of City Journal Christopher Hitchens reviews Mark Steyn's book America Alone: The End of the World As We Know It, not uncritically. He does take issue with Steyn's sneers at Martin Amis, pointing out that liberals like Amis share much of Steyn's hostility towards Islam and Islamism.
Hitchens writes: "Mark Steyn's book is essentially a challenge to the bien-pensants among us: an insistence that we recognize an extraordinary threat and thus the possible need for extraordinary responses. He need not pose as if he were the only one with the courage to think in this way." To prove his point Hitchens quotes Amis's vile anti-Muslim diatribe from last September – which proposes subjecting the Muslim community as a whole to travel bans, racial profiling, strip searches and deportation – while at the same time describing his chum as "profoundly humanistic and open-minded".
(To be fair, Hitchens does baulk at a statement from Sam Harris, who has written: "The people who speak most sensibly about the threat that Islam poses to Europe are actually fascists." Hitch characterises this as an "irresponsible remark". You could say.)
The basic problem with a lot of liberals, Hitchens says, is that "they cannot shake their subliminal identification of the Muslim religion with the wretched of the earth: the black- and brown-skinned denizens of what we once called the 'Third World'." Furthermore, this inexplicable sympathy with the oppressed has given rise to "the stupid neologism 'Islamophobia', which aims to promote criticism of Islam to the gallery of special offenses associated with racism".
Like Steyn, Hitchens warns against "the Islamist project of a 'soft' conquest of host countries". He tells us that "Europe's multicultural authorities, many of its welfare agencies, and many of its churches treat the most militant Muslims as the minority's 'real' spokesmen … encouraging the sensation that many in the non-Muslim Establishment have a kind of death wish". With evident approval, Hitch cites Steyn's complaint that "most of the Christian churches have collapsed into compromise: choosing to speak of Muslims as another 'faith community' … and reserving their real condemnation for American policies in the war against terrorism".
Overall, despite minor criticisms, Hitchens endorses "Steyn's salient point that demography and cultural masochism, especially in combination, are handing a bloodless victory to the forces of Islamization".