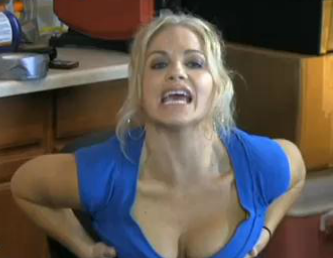 Breast squeezing, profanity spewing, Muslim baiting Angela Box is by obvious personal design quite the spectacle on the cable access show "Tommy's Garage."
"I am so sick of the bacon haters coming here and demanding we bend to their culture," said Box in a recent episode, referring to Muslims.
And in this country where free speech is sacred, Box's expression is simply an indisputable right.
But just as sacred is the privilege of parents to object when they deem the calculated public behavior of a 3rd grade teacher is bigoted and a potential threat to their kids.
"We all understand that she is entitled to her views and opinions, but it goes back to the classroom. How are the kids being treated in the classroom when the very people that you have such a disdain for, their kids are in your classroom," said Ladonna Begelton, a parent with two children at Ray Daily Elementary where Box teaches.
Box has declined repeated interview requests from FOX 26, but has defended her inflammatory cable show rhetoric to others as part of her private life conducted neither on school property nor on school time. She also claims she's not a racist.
Activist Quanell X, a practicing Muslim, wants Box removed from the classroom until she better understands her responsibility as a role model. "How can any parent trust that whatever she sends home about their child is truthful when you have a teacher with such bigotry and such hateful beliefs?," said Quanell X.
Houston ISD has reviewed episodes of "Tommy's Garage" and says Box will remain in the classroom. Parental concerns, the district says, will be dealt with on a case by case basis.
MyFox Houston, 15 November 2014
Update:  See "CAIR-Houston calls for probe of anti-Muslim teacher's impact on students", CAIR press release, 18 November 2014
Update 2:  See "Teacher accused of anti-Muslim remarks to resign, get 3 months' pay", Houston Chronicle, 4 December 2014