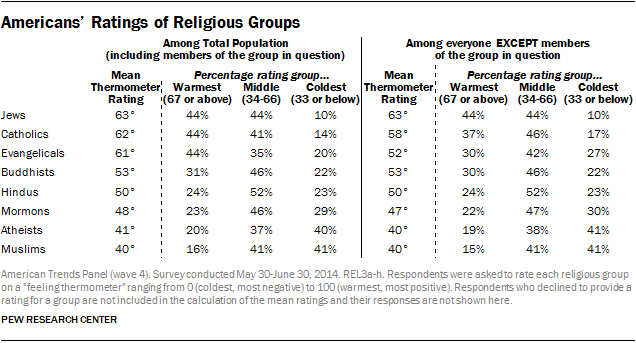 Jews, Catholics and evangelical Christians are viewed warmly by the American public. When asked to rate each group on a "feeling thermometer" ranging from 0 to 100 – where 0 reflects the coldest, most negative possible rating and 100 the warmest, most positive rating – all three groups receive an average rating of 60 or higher (63 for Jews, 62 for Catholics and 61 for evangelical Christians). And 44% of the public rates all three groups in the warmest part of the scale (67 or higher).
Buddhists, Hindus and Mormons receive neutral ratings on average, ranging from 48 for Mormons to 53 for Buddhists. The public views atheists and Muslims more coldly; atheists receive an average rating of 41, and Muslims an average rating of 40. Fully 41% of the public rates Muslims in the coldest part of the thermometer (33 or below), and 40% rate atheists in the coldest part.
These are some of the key findings from a Pew Research Center survey conducted May 30-June 30, 2014, among 3,217 adults who are part of Pew Research's new American Trends Panel, a nationally representative panel of randomly selected U.S. adults.