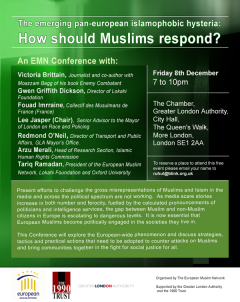 The emerging pan-European Islamophobic hysteria: how should Muslims respond?
An EMN Conference with:
Victoria Brittain, Journalist and co-author with Moazzam Begg of his book Enemy Combatant
Gwen Griffith Dickson, Director of Lokahi Foundation
Fouad Imrraine, Collectif des Musulmans de France (France)
Lee Jasper (Chair), Senior Advisor to the Mayor of London on Race and Policing
Redmond O'Neil, Director of Transport and Public Affairs, Greater London Authority Mayor's Office
Arzu Merali, Head of Research Section, Islamic Human Rights Commission
Tariq Ramadan, President of the European Muslim Network, senior research fellow St Antony's College (Oxford) and at the Lokahi Foundation (London)
Date/Time:  Friday 8th December from 7 to 10 pm.
Venue:  City Hall, The Queen's Walk, London SE1 2AA
Present efforts to challenge the gross misrepresentations of Muslims and Islam in the media and across the political spectrum are not working. As media scare stories increase in both number and ferocity, fuelled by the calculated pronouncements of politicians and intelligence services, the gap between Muslim and non-Muslim citizens in Europe escalating to dangerous levels. It is now essential that European Muslims become politically engaged in the societies they live in.
This Conference will explore the European-wide phenomenon and discuss strategies, tactics and practical actions that need to be adopted to counter attacks on Muslims and bring communities together in the fight for social justice for all.
This event is organised by the European Muslim Network and supported by the Greater London Authority and the 1990 Trust.
Booking:  To reserve a place to attend this FREE event, please email your name to ruhul@blink.org.uk