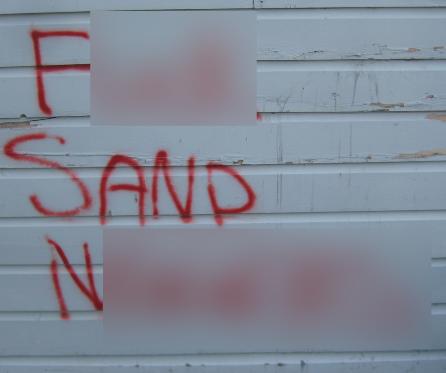 A racial slur was spray-painted on the wall of a mosque in the city of Hudson. The words appeared sometime between midnight and 5 a.m. Scrawled in red on the blue wall of a mosque in Hudson, they appear to target this Muslim community.
Abdus Miah, a member of the mosque, is also a city Alderman. "I thought… maybe somebody hates us.  I was thinking that way. Or something like that. I don't know. We never faced any kind of problem after 9-11. This is the first time," said Miah.
City Council President Don Moore was quick to condemn the vandalism and says the police are taking this very seriously. "In the current atmosphere, with the degree of uncertainty that Muslims in this country face, we don't want to take anything for granted," said Moore.
This is the holy month of Ramadan. People who gathered at the mosque said they are surprised to see something like this, in a racially mixed and generally tolerant city.
"Well I was stunned," said Moore. "Because Hudson is a very diverse community and we're proud of it. And so to see even one person take advantage of a house of worship, regardless of the faith, is something we want to put a stop to immediately."
See also WXXA, 9 September 2010