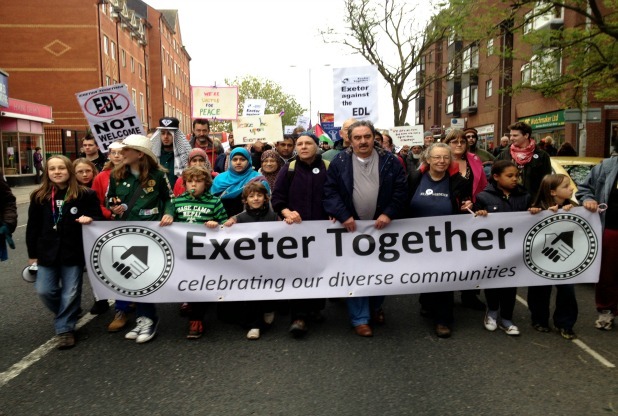 A large body of people have marched through the city today to condemn a major national demonstration by a controversial far right-wing group in Exeter. An estimated 1,000 people turned-out to parade through the city centre ahead of the English Defence League (EDL) march this afternoon.
People travelled from across the country to march under the banner of Exeter Together – celebrating the city's cultural diversity, and opposing the EDL's presence in the city.
City council leader councillor Pete Edwards, who stood at the front of the march, said: "Today has been a great day for Exeter. Over 1,000 people have turned out to stand together against fascism and racism. It's good stuff for Exeter and all its citizens."
Other leading figures – including MP Ben Bradshaw and the Dean of Exeter Cathedral, the Very Rev Jonathan Draper – were among a total of 1,000 people from a range of country's and ethnic backgrounds who signed-up to support the counter march.
Ghee Bowman, of Exeter Woodcraft Folk, said: "Exeter is a city that is full of different kinds of people of all different religions and races, and they are all welcome here."
The lobby gathered at Belmont Park this morning before marching along the streets to Bedford Square where a range of speakers and entertainers were performing.
Su Aves from Exeter said: "I'm here today because I believe in everybody hearing each other, respecting each other and supporting each other Causing separation by people's racial comments and bad ideas needs to be got rid of."
Dozens of police officers accompanied the group as they peacefully made their way down Blackboy Road, Sidwell Street and the High Street.
A woman who gave her name as 'Barbara' said she travelled from Bristol for the march "to show strength" and "to oppose racist ideas".
Police said that 700 people took part in the Exeter Together march, although some estimates suggested numbers were in excess of 1,000.
Spokesman for Exeter Together Hannah Packham said: "Today has gone fantastically well. We've had hundreds of people, up to 1,000, marching through Exeter. It's a real sign Exeter can unite in its diversity.
"Our celebration today goes against the politics of hatred and lies that the EDL are trying to bring into Exeter.
"We always knew we were going to do well once we had the 1,000 mark of signatures. But the turnout, the atmosphere and the reception from the shoppers has just been amazing."
Exeter Express & Echo, 16 November 2013
Update:  See "Marchers show EDL 'has no place in Exeter'", Exeter Daily, 17 November 2013
Update 2:  See also "EDL humiliated in Exeter", Exeter EDL News, 20 November 2013