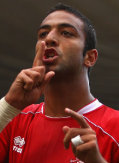 "Much as one hates to pre-empt the outcome of another of those famously sabre-toothed FA inquiries, the stench of inaction is already beginning to hover around the fact that a significant number of Newcastle supporters racially abused Mido during their side's 2-2 draw with Middlesbrough on Sunday.
"Soho Square has begun an investigation, and is talking of banning orders if the police identify the culprits, but Middlesbrough will not be demanding an apology. Quite unforgivably, meanwhile, Newcastle have refused to comment. And already, we have been treated to the views of apologists for the fans who persistently chanted 'Mido, he's got a bomb you know; Mido's got a bomb' at the Egyptian striker, along with other Islamophobic abuse that somehow contrived to be even less artful.
"Speaking to this newspaper, one Ian Cusack of the Newcastle fanzine Players Inc described the chants as 'unsavoury'. 'But I don't think they were racist', he went on. 'Newcastle have Muslim players. Emre is a Muslim … The chants should be placed in the context of local rivalry.' It takes a special sort of idiotic blindness, really, to downgrade racism to something that can be excused on account of geography….
"Newcastle's failure to issue a statement at the very least condemning Islamophobia in football speaks volumes. The FA making the chanting a police matter should not be used as an excuse to let the club's distasteful mulishness slide. It doesn't help that Mido was booked for holding his finger to his lips in front of the abusive fans, who will inevitably go largely unpunished…."
Marina Hyde in the Guardian, 30 August 2007