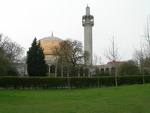 An imam was in a serious condition in hospital today after being attacked in a London mosque. The Muslim cleric was assaulted at Regent's Park mosque on Friday. The 58-year-old imam, who has not been named, suffered heavy blood loss, damage to both eyes and had to undergo emergency surgery, the Muslim Council of Britain (MCB) said.
The MCB claim there have been a series of recent Islamophobic crimes in Britain, which they believe have been fuelled by the media. An arson attack on a mosque in Bradford on August 3 is being treated as suspicious by police. Strathclyde Police have also reported an increase in race crime in the west of Scotland since the suspected terrorist attack on Glasgow Airport on June 30.
An MCB spokesman said: "There is clearly a growing anti-Muslim climate in this country and it has some very worrying implications for all of us. It is deeply regrettable that sections of our media have been playing a key role in fomenting much of this Islamophobic prejudice and hatred against British Muslims."
Evening Standard, 13 August 2007
See also MCB news release, BMI statement and the Muslim News.
And the Times, 13 August 2007