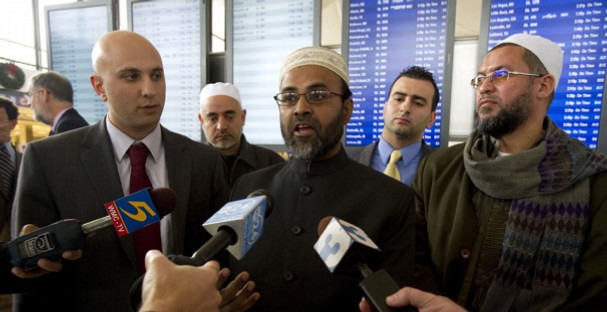 Standing near the Delta Air Lines ticket counter Monday, Muslim cleric Masudur Rahman described what it felt like to be kicked off a flight in Memphis earlier this year while traveling to a religious conference.
"It was really a humiliation," said Rahman, an adjunct instructor of Arabic at the University of Memphis.
On May 6, Rahman and Mohamed Zaghloul, who were both dressed in traditional Muslim attire, were on their way to a conference in Charlotte, N.C., hosted by the North American Imams Federation. The topic of the conference was "Islamaphobia."
At Memphis International Airport, the two clerics were cleared to fly during an initial TSA checkpoint and again after a random, secondary check and search at the gate. They boarded the plane, but were soon booted off.
The men filed a federal lawsuit Monday against Delta and Atlantic Southeast Airlines, the Delta Connection carrier that was operating the flight. The suit alleges that the pilot had them removed from the plane based on "arbitrary and capricious reasons, including his personal preconceived notions of race, religion and national origin."
According to the lawsuit, a Delta supervisor told the men that the pilot "believed the mere presence and perception of the Plaintiffs on his plane would make other passengers feel uncomfortable."
Zaghloul, 49, who is originally from Egypt, is a religious leader at the Islamic Association of Greater Memphis. Rahman, 37, is originally from Pakistan.
"In their attempt to attend a national conference about countering the rise of anti-Muslim bigotry, Masudur Rahman and Mohamed Zaghloul … came face-to-face with the discrimination they hoped to learn how to diminish," the lawsuit says.
Commercial Appeal, 19 December 2011
See also "Tenn. Imams' suit accuses Delta of passenger profiling",CAIR press release, 19 December 2011