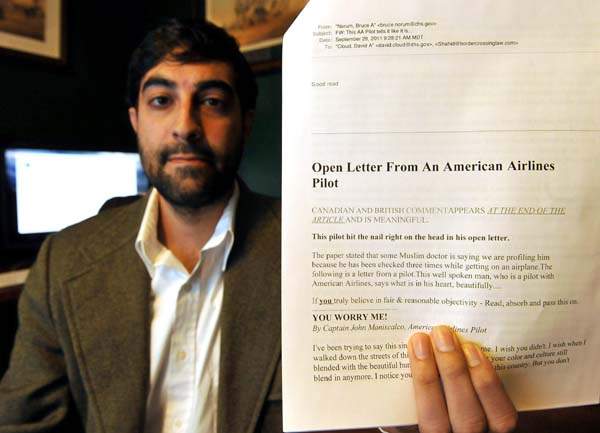 HELENA — Shahid Haque-Hausrath sat down at his computer on the morning of Sept. 28 and, as he does at the start of most work days, began reading his email. In his inbox that morning was an email from the state's top U.S. Department of Homeland Security Immigration and Customs Enforcement official, Bruce Norum.
Haque-Hausrath is an immigration attorney who often deals with ICE on immigration and deportation cases, so he wasn't necessarily surprised to see an email from Norum, the supervisory detention and deportation officer for Montana.
Haque-Hausrath said he was somewhat perplexed by the email's subject line: "FW: This AA Pilot tells it like it is …" In the body of the email Norum simply wrote "Good read" ahead of a forwarded message.
When Haque-Hausrath read the contents that followed Norum's apparent recommendation, his curiosity turned to stunned amazement. The forwarded message contained a lengthy, racially charged essay that appeared to be a rebuttal to the idea that Arabs and Muslims deserve the same protection under the law against racial profiling and discrimination as other citizens.
The content of the essay seems to advocate a "loyalty test" for Muslims and Arabs before they should be granted the same rights and freedoms afforded to other citizens of the United States.
"I want to know, I DEMAND to know and I have a right to know, whether or not you love America …" the essay reads, in part. "Do you pledge allegiance to its flag? Do you proudly display it in front of your house, or on your car? Do you pray in your many daily prayers that Allah will bless this nation; that He will protect it and let it prosper? Or do you pray that Allah with (sic) destroy it in one of your Jihads?"
The essay is purported to have been written by an American Airlines pilot named John Maniscalco. According to Snopes.com, the essay has been circulating on the Internet since as far back as June 2002.
Great Falls Tribune, 8 October 2011
Update:  See "CAIR seeks reprimand for ICE official who forwarded Islamophobic email", CAIR press release, 9 October 2011