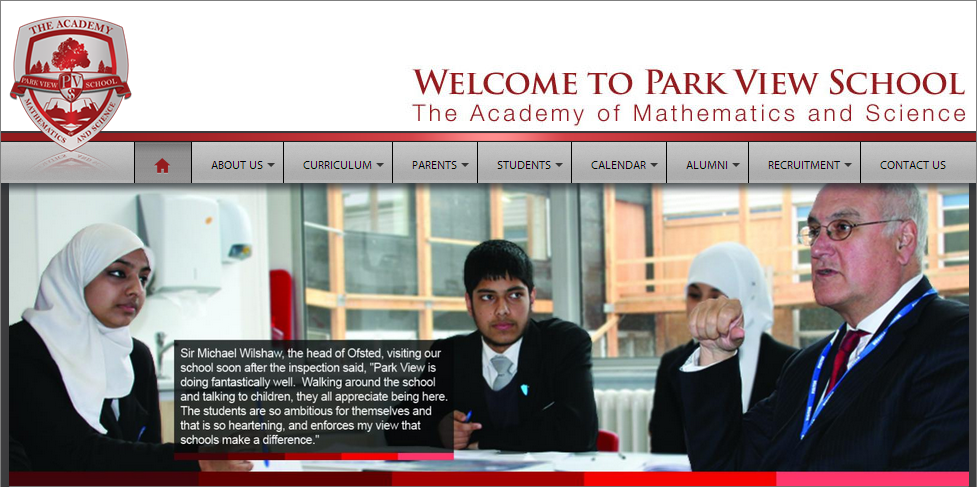 Inspectors who visited an academy at the centre of allegations about an Islamist takeover are being accused of behaving inappropriately, asking students intrusive, personal questions and showing bias.
Park View School in Birmingham received two snap Ofsted inspections and a separate visit from a team of Department for Education (DfE) inspectors this month, after claims that it was one of four schools in the city "taken over" by radical Muslims.
But the high-achieving secondary, which rejects the allegations, is concerned about the way the inspections were conducted and fears that it is not being given a fair hearing.
Last Saturday, it was reported that Park View would be placed in special measures following an inspection conducted just four days earlier. The apparent advance briefing on a report that has still not been published prompted a furious public reaction from Lee Donaghy, an assistant head at the academy.
Mr Donaghy took to Twitter to complain to Ofsted schools director, Mike Cladingbowl, about the leaking of the verdict before it had been "quality assured" and the way his inspectors behaved when they visited the school.
Now sources at the Birmingham secondary have told TES that they were also alarmed by the behaviour of DfE inspectors who asked "very leading", "very personal" questions that made students feel "uncomfortable"; and appeared to be selective in the evidence they gathered.
"They were taking pictures of displays on the wall relating to Islam and ignoring displays that related to other religions," a source claimed. "There were posters about multi-cultural society – they weren't interested in those, they were just taking the ones that had any Arabic script in them."
Mr Donaghy told Mr Cladingbowl that a senior Ofsted HMI inspector had opened a meeting with a Muslim member of staff at the school with the question, "Are you homophobic?".
The assistant head also complained that an HMI inspector had appeared to joke about the number of male Muslim teachers at the school. When discussing where a colleague had gone, the senior inspector had reportedly said that he had "left with a man with a beard". "Though that's not much help as there are so many," the HMI said, he claimed.
According to Mr Donaghy the HMI was supposed be quality assuring the work of the three other Ofsted inspectors at the school. "How can we have faith in the fairness of the inspection after that?" the assistant head asked Mr Cladingbowl.
The second of the Ofsted inspections at Park View this month was followed by visit from a nine-strong DfE team on Friday 21 March. Management at the school had been warned about the inspection in advance but were expecting it would be a largely paper-based exercise looking at the academy's accounts and curriculum documents.
Instead, inspectors went into classrooms and asked students personal questions as lessons progressed, according to a source, who said the visit had created a "very fearful atmosphere".
"A lot of girls were asked 'Are you forced to wear the head scarf?'" the source said. "They asked one male pupil, 'Are girls here forced to wear headscarves?' and his answer was 'Well there are three girls sat in the room that aren't wearing them. So what do you think?'"
One girl told school staff that DfE inspectors asked her: "Do you have to pray after every lesson?". Another girl who wore trousers said inspectors asked her why she did not wear a skirt; while they reportedly asked a girl who was wearing a very long skirt: "Isn't it very difficult for you to move around?"
"They were asked very leading questions and, we felt, questions with lots of innuendo, which you just wouldn't have asked at a school that didn't have Muslim pupils," a Park View source said. "They came in very, very aggressively".
Another girl told school staff she was asked: "Are you taught about the menstrual cycle in science?".
School sources contrasted the approach with normal Ofsted inspections where school management can accompany inspectors when they visit classrooms. "They [DfE inspectors] said 'We're going into lessons and you're [the school management] not coming with us," a source said.
Allegations about Park View emerged earlier this month in "leaked" documents, purportedly revealing correspondence between Islamic fundamentalists. They discuss a supposedly successful plan – dubbed 'Operation Trojan Horse' – to win control of Birmingham schools. But factual inaccuracies quickly led to widespread doubts about their authenticity. Some suspect they were produced by provocateurs trying to stir up ill feeling towards Muslims.
There have also been media suggestions that the documents came from concerned teachers, and have prompted more to come forward with further claims. The authorities are taking at least some of the allegations seriously, leading to the Park view inspections.
An Ofsted spokesman would only say that a report on Park View would be published "shortly". Asked if the watchdog had briefed the outcome in advance, he said: "I can't really go there, I'm afraid." A DfE spokesman said: "All school visits are carried out in an impartial, balanced and professional manner."