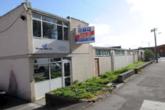 Extreme right supporters are part of an internet group opposing plans for a new mosque in Barton Hill. More than 700 people have joined a Facebook group against a planning application to convert a disused building in Aiken Street into a place of worship and community centre.
Many of the messages on "No we do not want a mosque in Barton Hill" are from white people who claim they are being "pushed out" of their community. Some are too offensive to be printed in a family newspaper, with claims that mosques are "breeding grounds for terrorists" and calls to vote BNP.
A number of messages of support are given by the far-right English Defence League, whose members were removed from Harbourside by police in riot gear shortly before the political leader's debate last week. Comments on the website have been branded as racist by other people who have posted in response to their views.
One referred to the commentators as "racist uneducated idiots", while another said "What's wrong with you lot? The world is changing, why can't you see that? People like you just make the English look like horrible people".
The proposal to convert the former Weston White factory into a mosque has been submitted to the council by Khalif Abdirahman, a parent governor at Barton Hill Primary School. He hoped the mosque would help bring the community together and argued many of the messages from the site are from people outside of the area.
One post that supports his theory reads: "Even though I don't live in Somerset anymore, I don't want this! This is England! I have sent this to friends in the US too, invited 110 people and filled in the petition form to Bristol City Council."
Other comments included: "Why is there such a high demand for mosques? Because in there [sic] twisted religion they believe all of the Earth is Allah's and they plan to dominate, no thanks **** off to the Middle East or some other Muslim hole."
Another said: "What can we do to stop this I live 2 mins away from it I don't want to walk up the street and fill [sic] like I am out numbered in my own country bring on the BNP."
Mr Abdirahman said he had taken his own petition around the area to canvass opinion and when the Evening Post spoke to people in Barton Hill, they were broadly supportive of the plans.
The applicant said: "I took a petition and was amazed by how many supported it. We didn't go to the whole area but we had 100 signatures. It was a very positive reaction. One was from an 85-year-old white lady, that was very moving."
The protest site has echoes of a similar group that was set up when plans were submitted to North Somerset Council for a mosque in Weston-super-Mare. Although the plans were eventually rejected due to concerns about noise, planners had to discard 97 per cent of 157 letters of objection because they were racist.
Bristol Evening Post, 26 April 2010
See also "Mosque protest has an ugly face", Bristol Evening Post, 26 April 2010