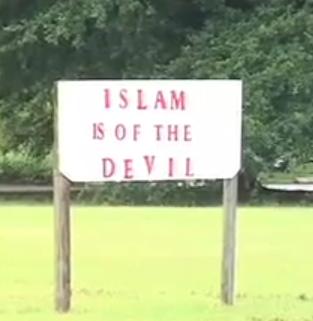 Those behind a sign posted in front of their northwest Gainesville church, proclaiming in red letters "Islam is of the devil," say it's a way to express their religious beliefs and is a message of "a great act of love."
Some living near the Dove World Outreach Center, however, are outraged and disappointed with the sign's message, which has sparked protests and acts of vandalism at the church since it was posted over the weekend.
"It's an act of saying there is only one way, and that is actually what Christianity is about. It is about pointing the people in the right direction, and that right direction is Jesus and only Jesus," said the church's senior pastor, Terry Jones. "We feel the sign is an act of giving the people a chance."
Jones acknowledged not everyone has welcomed the sign. Jones said the acts of vandalism will be reported to police and that there are no plans to remove the sign or change what it says.
"We actually posted the sign because there is a tremendous growth in Islam at this time. It is a violent and oppressive religion and does not have anything to do with the truth of the Bible," Jones said. "We are definitely trying to send the message that Jesus Christ is the only way."
Watch video report here
Update:  See "Crowd gathers in protest in front of church", Gainesville Sun, 8 July 2009