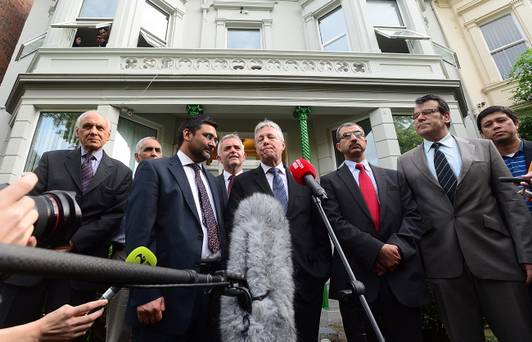 First Minister Peter Robinson has publicly apologised for offence caused to Muslims following comments he made in defence of a firebrand pastor who denounced Islam as "satanic".
Speaking outside the Islamic Centre in Belfast following a meeting with Muslim leaders, Mr Robinson said he had made a "face-to-face, man-to-man" apology.
"I have had a very welcoming visit to the Belfast Islamic Centre. I have been received in friendship, and respect," he said. "I came here to make it very clear that the members of the Islamic community are a very important and valued part of our society in Northern Ireland. I know many of you centre on an issue of an issue of an apology – I apologise to these gentlemen, if anything I said had caused them hurt. I can see in many cases, it has. I say I apologise, face-to-face, man-to-man. The way it should be done."
Last week the DUP leader came under fire for defending the Pastor James McConnell's remarks, telling the Irish News he would not trust Muslims involved in violence or those devoted to sharia law, which covers everything from public executions to what adherents should do if colleagues invite them to the pub after work or college. Mr Robinson said he would "trust them to go to the shops" for him. He later clarified his own remarks and met Muslim leaders in Belfast to apologise privately.
But despite offering a public apology to Muslims, this evening Mr Robinson fell short of condemning comments made by Pastor McConnell during a sermon last month. After addressing the waiting media, one man – who had earlier visited the Islamic Centre – brought up the issue of Mr Robinson's defence of the controversial pastor's remarks.
"It is not the role of any politician to give give doctrinal opinions," Mr Robinson said tonight. "I am not a theologian, I am not in a position to give the view of doctrine. People have a right to free speech, but everyone who has that right…they must exercise that right with responsibility, and care."
Earlier today, Peter Robinson gave a Muslim religious leader a tour of Stormont.
Imam Ibrahim Noonan said he would like to meet the fundamentalist Christian pastor whose heavy criticism of the Islamic faith ignited a political furore at Stormont. The Galway-based cleric said he was reassured by an apology made by the first minister after he defended comments by Pastor James McConnell, who described Islam as "heathen" and "satanic".
Speaking outside the Islamic Centre on Tuesday night – after spending around an hour inside speaking to Muslim leaders – Peter Robinson said:
"I made it very clear to the people present tonight that I apologise for any offence that I might have caused. The very last thing that I would have ever have in my mind would be to cause anyone hurt or distress or to insult them and I make that publicly clear as well in the clearest possible terms. I cannot spend the rest of my life apologising but what I can do is spend the rest of my life building the united community that I believe we want in Northern Ireland."
Meanwhile, the number of racist incidents reported to police in Northern Ireland increased by almost a third in the past year, according to the Police Service of Northern Ireland's annual crime statistics. There were 982 racist incidents in the 2013/14 financial year, an increase of 30.9%. However, sectarian incidents decreased by 6.4% to 1,284.
Two Pakistani men living in Belfast have said they will leave after they were assaulted in their home in a suspected racist attack over the weekend.
Police have said the loyalist paramilitary group the Ulster Volunteer Force (UVF) has been orchestrating racist attacks in south and east Belfast. Assistant Chief Constable Will Kerr has noted it contributed to an overall 70% rise in hate crime in Belfast. He said: "It has a deeply unpleasant taste of a bit of ethnic cleansing."
Alliance MLA Anna Lo had also warned she does not feel safe living in Northern Ireland in the wake of a recent upsurge in racist hate crimes. Ms Lo, who was a candidate in the recent European election, has announced she will not seek re-election as an MLA in 2016 as she is fed up with "tribal politics".
At Stormont earlier today, members of the devolved Northern Ireland Assembly condemned the recent racial attacks and expressed their opposition to racism, discrimination and intolerance.
Ms Lo said: "We must stop the tide of racism in Northern Ireland. We need political leadership here from this house. We need, all of us, to unite together, to stand together."
Sinn Fein's anti-racism motion was passed unanimously. It called for all parties to show leadership on the issue and urged the first and deputy first ministers to bring forward a racial equality strategy as a matter of urgency.
Mr Robinson said some points were being addressed by his Office of the First Minister and the Deputy First Minister but the work, which critics believe is long overdue, would be complete soon.
Muslim leaders said he should return to meet them about a range of issues surrounding ethnic minorities. Dr Osama Chahrour, a scientist, was among a large group of people who met Mr Robinson. "He was clear about his explanation and apology." He added: "It was a good visit."
Mr Robinson said he had been received at the Islamic centre in friendship and respect and wanted to draw a line under the past and concentrate on building a united future. He added finding a new Islamic centre to relieve the cramped conditions should be dealt with in express fashion. "I came here to make it very clear that the representatives of the Islamic community are a very important and valued part of our society in Northern Ireland."
He said hate crime hurt him. "Just because people are different doesn't mean there should be division between us and them. It adds to the vibrancy of our society, it adds to the culture that we have in Northern Ireland, the more people that we have from different backgrounds who can contribute to it. I hope that fellow citizens from throughout Northern Ireland recognise that it is far better to get to know people, to understand people, than to keep a distance from them and certainly to cause them any harm or hurt."