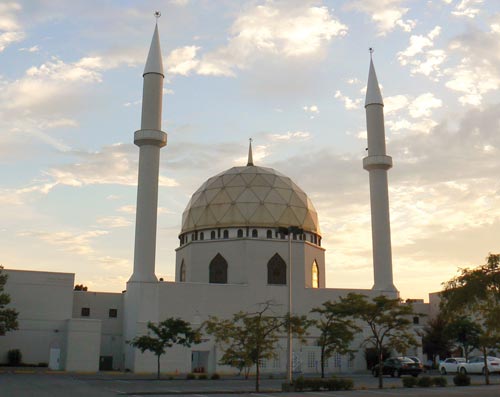 Nearly 15 months after an Indiana man set fire to the Islamic Center of Greater Toledo, members of the mosque will celebrate a "Grand Reopening" and express their thanks to the public with tours and a dinner program Dec. 14.
"For our own community, it's a chance to come together just to say, 'Good! We're finished! We're done!' And it's also to thank the community for everything," said Cherrefe Kadri, president of the mosque. "It's a joyous celebration."
The arson attack occurred Sept. 30, 2012, when 52-year-old Randy Linn of St. Joe, Ind., drove to the mosque, poured gasoline on the prayer room carpet and set it ablaze. He told U.S. District Court Judge Jack Zouhary that he was drunk and angry at Muslims after seeing a TV news broadcast about wounded American soldiers.
"That day, Sept. 30th, that wasn't me," Linn said at his sentencing. "I mean, it was me that did it, but it's not me usually. I was drinking a lot."
The blaze was so intense that it melted a chandelier hanging from the ceiling and set off emergency sprinklers throughout the 60,000-square-foot building. Repairs from the fire, smoke and water damage have reached $1.6 million, Kadri said, all covered by insurance.
Linn pleaded guilty and was sentenced in April to 20 years in federal prison, and was ordered to pay $1.4 million in restitution.
While the mosque was undergoing repairs, services were held in local hotel ballrooms. But when those ballrooms became unavailable in March, the Islamic Center was forced to reopen although construction was ongoing.
The last big job was the installation of a custom-designed, 3,000-square-foot carpet in the octagonal prayer room.
Kadri said the Islamic Center is especially grateful to the fire and police departments, federal law enforcement agencies and prosecutors involved in the case, and also to the Toledo community for its support.
"I think we're very lucky in this area, not just for the government officials but for the clergy and the multifaith community," she said. "We all know each other. No one's a stranger. And we know that if it happens to one of us, it can happen to others."
Abdel-Wahab Soliman, a member of the mosque, also said he was grateful to the Toledo community for its help and encouragement in the wake of the arson attack.
"The support of the community was very good, very nice," Soliman said. "Of course there was disruption in the Islamic school and in our religious services, but have a come back and we have put everything back in place."
Yehia "John" Shousher, 85, who was president of the mosque when it was founded in 1954, made signs thanking first responders and the Toledo community that were posted at the site during repairs.
"I am grateful. I can't say 'Thank you' enough to everyone involved," Shousher said. "You don't see that kind of support anywhere else. In other countries they are killing one another. Here we are living together and supporting one another and condemning acts of violence."
Kadri and Shousher both said they feel justice was served with Linn's sentence, primarily as a deterrent to anyone contemplating violence.
"I honestly feel bad for him. He's a wayward soul with wayward thinking," Kadri said. "I personally feel bad that anyone had that kind of hatred. How can you live with that kind of hatred in your soul? But we were good with whatever the court decided was appropriate and just."
"The sentence was a lesson to other people," Shousher said. "The only benefit was that justice was served in a country where we cherish the freedom of religion and the right to exist. You could burn a mosque but you could never burn our faith."