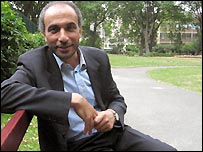 Islamic extremist or the man leading reform of the faith? Professor Tariq Ramadan explains why his critics are wrong and why the London bombings mean more than ever that Western Muslims must split from the East.
He's the man the Sun loved to hate. Five days after the London bombings, the newspaper ran a front-page story inviting readers to "MEET ISLAMIC MILITANT PROFESSOR TARIQ RAMADAN", urging the government to ban the Swiss academic from a conference this past weekend.
A week later, The Sun had a change of heart and ran a second piece, describing him as a "hero of young Muslims". Prof Ramadan came to London and indeed spoke to a large audience on the "Middle Way" at one of London's largest mosques.