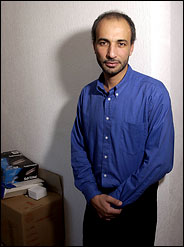 A conference of Islamic scholars from around the world yesterday denounced the recent terrorist attacks on London as "barbaric and inhuman", and called on the public and media to work more closely with the Muslim community to fight extremism.
Speakers at the Metropolitan police-sponsored conference, which was designed to educate young British Muslims about extremism and Islamophobia, also criticised the killing of Jean Charles de Menezes but said the young Brazilian's death should not be allowed to upset community relations.
Tariq Ramadan, a Switzerland-based scholar whose visit to speak at the conference attracted condemnation from the Sun newspaper, said: "We should call for an independent investigation to make sure that this does not happen again." He asked people not to react emotionally to recent events and to act as citizens who say "no to discrimination and no to extremism".