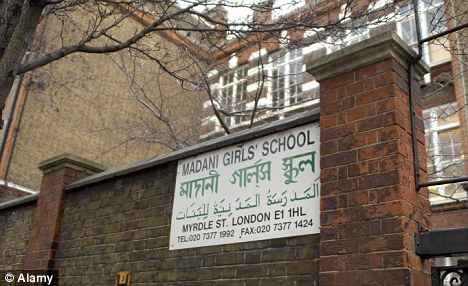 A religious school in east London has been accused of requiring face veils for girls as young as 11 to be worn as part of its uniform policy. Conservative councillor Peter Golds said children should not be forced to wear the veil.
The dress code at Madani Girls' School in Myrdle Street, Whitechapel, states that all pupils must wear a black burka and long black coat when outside.
Cllr Golds said: "I have concerns about children being forced to wear a garb for which there is no theological requirement. One would expect children at any school with a religious ethos to be dressed modestly, but not covered up. This is a decision that they should make as an adult."
But in a statement, the school said it had been "misrepresented" and did not impose face veils on pupils. It said the word "burka" in its uniform policy refers to the jilbaab, which it described as "an outer garment, from shoulder to ankle length".
The row comes amid a wider debate about the wearing of the niqaab, or face veil, after a judge said a Muslim woman can wear the veil while standing trial but must remove it to give evidence.
The school's statement said: "Like any good school, we enforce the adherence to the uniform. The school uniform policy and design has been formed after consultation with parents and the student body.
"We respect the choice of those students who wish to wear it and those who do not wish to wear it.
"Madani Girls' School holds the pupils' welfare at the core of all its decisions and we work to support our pupils to become good and upright British citizens."
A Tower Hamlets Council spokesman said Madani was an independent school not funded by the council. The spokesman added: "Policy and guidance regarding dress code for pupils is a matter decided and set by individual schools."
East London Advertiser, 26 September 2013
---
The Advertiser's report gives a garbled version of the school's statement. Here it is in full: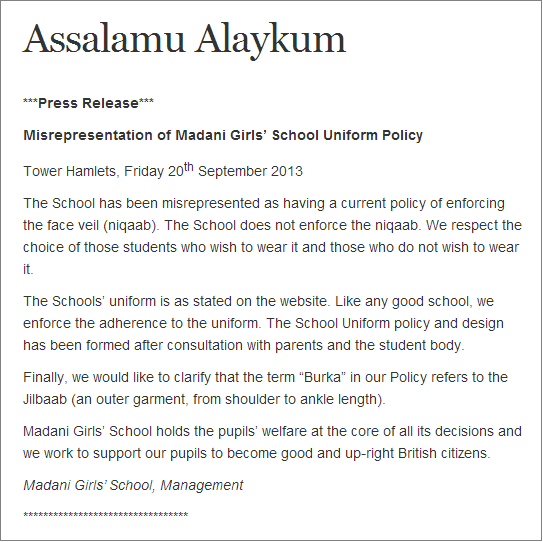 The Daily Mail published a report last week under the headline "Islamic schools in Britain forcing girls as young as 11 to wear full-face veils". Readers were told:
The Madani Girls School in Tower Hamlets, East London, requires all its pupils wear a black burka and a long black coat outside. On its website, its describes its uniform policy as "strict" and as supporting the "desired dress code of a Muslim female".

It continues: "The present uniform conforms to the Islamic Code of dressing and must be adhered to at all times both within the school and dismissal at the end of the day." The school does not allow any of its 300 pupils to wear any form of makeup or jewellery.

The Ayesha Siddiqa Girls School in Southall, West London, also insists pupils wear a navy blue burka or a jilbab, which does not cover the face. On its website, the school says its is "not willing to compromise on any issues regarding uniform".

Many other Muslim schools – including around a dozen state-funded schools – require female pupils to cover their hair.
So the Muslim schools, plural, who were supposedly forcing pupils to wear the veil, amounted to just the one school. And that school, it now turns out, doesn't in fact force pupils to wear the veil.