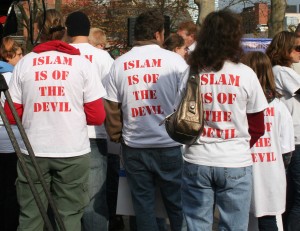 Fathima Rifqa Bary was present only in smiling photographs at a Downtown rally of her supporters yesterday.
The 17-year-old Columbus runaway is in foster care until a Franklin County Juvenile Court judge decides where she should live. The former New Albany High School student says her father threatened to kill her for leaving Islam for Christianity. She ran away from their Northeast Side home in July, fleeing to the Florida home of married pastors whom she met on Facebook.
Mohamed Bary denies his daughter's accusations, and authorities in Ohio and Florida have found no credible threat to her safety.
But her supporters say the authorities are being ignorant at best and malicious at worst. They say the girl, who goes by Rifqa, will be killed if she is returned to her family because Islamic law mandates it and Muslim ideology is violent and dangerous.
About 120 people gathered in a small park across from the S. High Street courthouse for the rally. A hearing had been scheduled for yesterday but was postponed until Dec. 22.
Speakers included Simon Deng, a Sudanese man who spoke of his enslavement by Muslims as a child, and Nonie Darwish, director of Former Muslims United, based in Granada Hills, Calif. Behind the speaker's lectern was a banner showing Muslim girls and women who have been maimed or killed for various offenses against faith or family, said conservative blogger Pamela Geller, a rally organizer. "We don't need another martyr," she said. "We have to win."
A general theme at the rally was that Islam is threatening the U.S. Constitution and American freedoms. "My concern is for the way that Islam is creeping into our society and trying to change it," said Don Berger of the East Side. "So I'm here in support of Rifqa and that she keeps her freedom." Several at the rally wore T-shirts that read: "Islam is of the devil."
Columbus Dispatch, 17 November 2009
See also LoonWatch, 16 November 2009