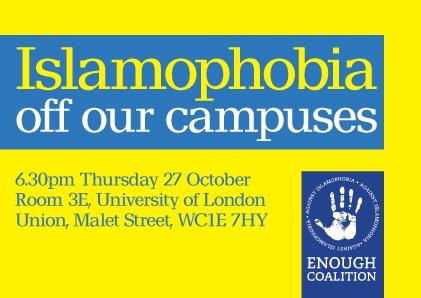 Islamophobia OFF our campuses!
Public meeting, called by the Enough Coalition Against Islamophobia
6:30pm, Thursday 27th October 2011
Room 3E, University of London Union, Malet Street, London
Following on from the successful Enough Coalition against Islamophobia summer conference in May 2011, we are now focusing on a very important aspect of Islamophobia that has affected many of us and that will continue to be a source of great injustice for many more if we do not speak out now.
Join the Enough Coalition on Thursday 27th October to discuss Islamophobia and Anti-Muslim hatred on our campuses.
Joining us on the panel are:
Dr Daud Abdullah (British Muslim Initiative)
Sanum Ghafoor (Student, blogger and activist)
Alaa Al Samarrai (FOSIS)
Hicham Yezza (Nottingham Uni – Editor of Ceasefire – and student who was arrested for printing the Al Qaeda manual)
Chris Nineham (Stop the War Coalition and Enough Coalition against Islamophobia)
Others To Be Confirmed!
Free entry, all welcome.
Facebook event page – https://www.facebook.com/event.php?eid=293831367311653
Facebook – Enough Coalition Against Islamophobia
Twitter – @enoughcoalition Event Hashtag #ECiphobiaUni
The Enough Coalition was established to tackle the rising tide of Islamophobia in the UK and confront anti-Muslim hatred. It brings together a coalition of organisations including Stop the War Coalition, Friends of Al-Aqsa, British Muslim Initiative, Federation of Students Islamic Societies, One Society Many Cultures, Unite Against Fascism, London Muslim Centre and the Islamic Forum of Europe.