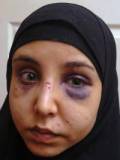 This Muslim woman was attacked in the street by a 15-year-old white girl who punched her repeatedly in the head while screaming racist obscenities. Isma Din, aged 23, suffered a fractured eye socket, swelling, and cuts to her nose, mouth and teeth in the assault in Meersbrook, while being called a "Paki bitch".
Today she told The Star she believed the motivation for the attack could be the hijab head scarf she wears as a practising Muslim. She said: "She just kept on punching me and punching me. She would not stop. She was calling me a Paki – it was definitely a racist attack."
Isma, who was on her way to work at the time of the attack, said her ordeal lasted three or four minutes but "it felt like a lifetime". It only stopped when a female motorist pulled up to intervene. Now Isma is suffering blurred and double vision and will have to undergo an operation on her eye socket once the swelling has gone down.