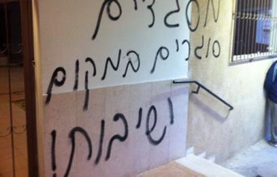 Anger gripped Fureidis, near Zichron Ya'acov, on Tuesday, after unidentified vandals sprayed graffiti on a mosque and slashed dozens of tires the previous night, in a suspected "price tag" attack.
Graffiti reading, "Shut down mosques, not yeshivot," was sprayed on the outside of the mosque, and inside, the vandals spray-painted a Star of David. They slashed the tires of cars belonging to residents.
In surveillance camera footage shown on TV Tuesday night, three people can be seen slashing the tires.
In response to the vandalism, a general strike was called for Wednesday in the village of some 12,000 residents, and all schools and businesses will be shut down.
On Tuesday night, around 1,500 people took part in a protest march through the village, calling for an end to "price tag" attacks and for police to find the perpetrators. In addition, dozens of residents of nearby Zichron Ya'acov and other Jewish towns came out and protested in a sign of solidarity.
Coastal District police said the protests were entirely peaceful and that they have no indication that any sort of revenge attacks should be expected in the area.
Fureidis village chairman Yonas Marai told Israel Radio: "They wrote many things on the mosque wall. They wrote that we have to close down the mosques and build yeshivas in their place. We live here in the State of Israel, a democratic state, we do not live in the West Bank and not in the [Gaza] Strip."
"Price tag" is the term used to describe acts of vandalism, generally directed at Arabs, to protest government policy.
Though such attacks began in the West Bank, the past few months there has been a marked increase in "price tag" incidents within the Green Line. Just since December there have been six attacks, with property damage and anti-Arab graffiti reported in Jaljulya, Umm el-Fahm, Kafr Akbara, Kafr Kasim and Baka al-Gharbiya, in addition to Fureidis.
Justice Minister Tzipi Livni said on Tuesday that "price tag" vandals oppose Israel as a Jewish and democratic state.
"This morning, we woke up to hatred and racism among us," Livni wrote on Facebook.
"We woke up to another 'price tag,' another desecrated mosque in Fureidis and more cars vandalized.
"I'm ashamed. Whoever did these things is not part of my nation," she wrote.
Livni commended municipalities in the area for speaking out against the acts. She promised Fureidis residents that she will do all she can to catch the criminals, put them on trial and have them serve severe sentences.
"'Price tag' crimes aren't against Arabs; they're against us, against everyone who wants our country to be Jewish and democratic," she said.
MK Ahmed Tibi (United Arab List-Ta'al) said the acts of vandalism are part of "an anti-Semitic wave executed by extremist Jewish hooligans against mosques and churches. These anti-Semites are acting without any fear that they'll be caught or punished."
Tibi accused the government of incompetence in responding to the attacks and warned of "local responses to defend mosques and property in Arab towns."