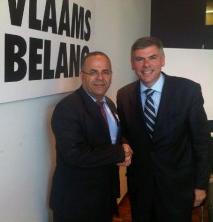 Belgian Jews reacted with surprise at news that a member of the Israeli government met this week with a leader of the Flemish extreme-right party Vlaams Belang in Antwerp.
Ayoob Kara, a Druze who is Deputy Minister for the Development of Galilee and the Negev, met with Filip Dewinter who hosted him in the Flemish parliament followed by a meeting with other European extreme-rightist politicians and a visit to the heavily Muslim populated area of Antwerp North. According to the Flemish party, the visit came several months after a visit of Dewinter in Israel.
At a joint press conference Dewinter explained the need to warn against the growing Islamization of the West.
The Israeli embassy reacted with surprise and embarrassment. An embassy spokesperson told the Joods Actueel weekly magazine published in Antwerp: "We have learned about the visit through the press, we were not aware of this visit."
He insisted that this was a private visit by Ayoob Kara, which was later confirmed by Mark Regev, spokesman of Israel's Prime Minister Benjamin Netanyahu. "Deputy Kara is in Belgium in his personal capacity and his visit does not reflect government policy," said Regev.
But the local Jewish community says the visit risks to severely embarrass the community and Israel. "This visit is very damaging for us," said Michael Freilich, editor in chief of Joods Actueel.
He said: "Israel and the Jewish community are not at war with Islam, we are at war with extremists, and that's a quite a different thing. Singling out a religion, as the Vlaams Belang does, inevitably brings back dark memories of a not too distant past where it was Jews who were persecuted because of their religion. Is this the message we want to send to Europe? That Israel follows the racist ideology of Europe's most notorious bigots?"
The Jewish community also stressed that it was precisely the Vlaams Belang party that proposed last month a bill in the Belgian Senate calling for amnesty for Belgian collaborators of the Nazis during WWII.