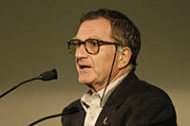 Controversial Islam expert Professor Raphael Israeli has delivered two sell-out lectures in Melbourne – but avoided the question of whether his grim warnings about Muslim population growth in Europe also applied to Australia.
Professor Israeli, a Hebrew University academic with more than 20 books to his name, told more than 360 people on Sunday night that Islam was at odds with the fundamental pillars that support a democracy.
In a talk sponsored by Issues of Concern for Justice and Society (ICJS), he said a clash between the Koran and democratic principles was inevitable because of Islam's rigid adherence to shari'a law. Earlier, he told a separate audience of about 350 people that Turkey's possible entry into the European Union (EU) could cause a major headache for Europe, effectively doubling the EU's Muslim population.
The two talks proceeded despite a major controversy over Professor Israeli's visit, triggered when the visiting academic told the AJN he believed the Australian Government should place a cap on Muslim immigrants.
One of the primary sponsors of the trip, the Australia/Israel & Jewish Affairs Council, withdrew its support following a storm of protest over the comments. But the State Zionist Council of Victoria (SZCV) and the Australian Friends of the Hebrew University continued to back the scholar, as did the Shalom Institute at the University of NSW, which initially brought the academic to Australia as a scholar-in-residence.
Members of Zionist youth movement Habonim Dror protested the SZCV's support of Professor Israeli last Wednesday night, handing out flyers critical of his remarks and the council's decision to give them voice.
"As an affiliate of the SZCV, we express our deepest disappointment at the council's decision to co-sponsor this event," the flyer said. "The suggestion that Australia should cap Muslim immigration to our country is racist and an allegation that we find deeply offensive and counterproductive."