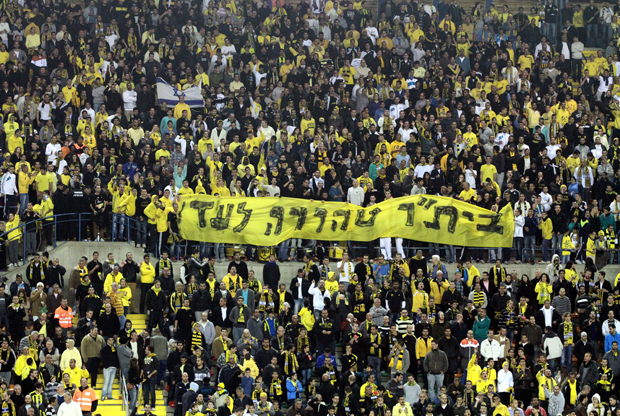 Beitar Jerusalem fans hold up a banner with the slogan "Beitar Pure Forever" during a match in January 2012
Al-Aqsa Mosque Director Sheikh Najeh Bakirat has denounced the burning of the holy Quran and insults to Islam's Prophet Muhammad by Israeli football fans in the northern Israeli city of Sakhnin on Wednesday.
"Israeli violations against Muslim religious symbols have gone beyond all red lines," Bakirat told Anadolu Agency.
During a Wednesday football match, fans of Israeli soccer team Beitar Jerusalem burned a copy of the Quran, the Muslim holy book, and insulted Prophet Muhammad.
Israeli police spokeswoman Luba al-Samri said that three fans in their twenties had been briefly detained over the incident.
Meanwhile, Arab Knesset member Talab Abu Arar sent requests to Israeli Internal Security Minister Yitzhak Aharonovich and Israel Football Association Chairman Avi Luzon asking them to restrain Beitar Jerusalem fans from committing such violations.
Abu Arar also called for putting a stop to what he described as "this racist phenomenon" and punishing violators for threatening public security and the safety of Arabs resident in Israel.
World Bulletin, 19 December 2013
See also "Beitar Jerusalem soccer fans vandalize Quran of opposing team", Daily Beast, 19 December 2013