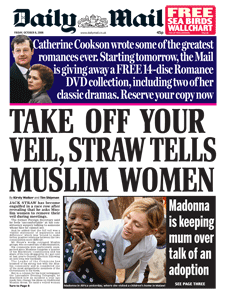 As the burqa debate raged in France this weekend, with the imposition of the first instant fine to a woman found wearing the burqa in a public place in Nantes, here in the UK former Justice Minister, Jack Straw, publicly apologised for having sparked controversy in October 2006 over making public his views that he would prefer Muslim women not to wear a face veil – or niqab – when visiting his MP's surgery.
At a pre-election hustings event organised in Blackburn yesterday (Sunday 25th April) by ENGAGE, Jack Straw, addressing a packed hall of local Muslim residents, expressed his regret at having caused a negative media storm which he acknowledged may have adversely impacted on the Muslim community.
He said: "To be blunt, if I had realised the scale of publicity that they [his comments] received in October 2006, I wouldn't have made them and I am sorry that it has caused problems and I offer that apology.
"Can I just say, this is about an issue of communication (you understand). I wasn't raising it to say it [the burqa] should be banned – quite the opposite. Let me say, I'm not responsible for those in France or Germany or in this country pursuing this. That is their business. I am fundamentally opposed to what they are doing.
"But if you ask me the specific question: Do I regret the fact that it [my comments] had then got taken round the world and taken out of context? Yes of course I do and I go on seeing people – Muslim women, wearing the full veil in my constituency advice surgery. I wouldn't dream of treating them other than with respect and I think they know from me that I do give them respect and I give them as much help as I give anybody else whatever their faith. And I am really glad to have had that opportunity to clear that up."
ENGAGE press release, 26 April 2010
---
See also the Daily Mail, which reports Islamophobic rentaquote Tory MP Philip Davies as saying:
"This seems like a shameless effort to muster up some Muslim votes in his constituency. Jack Straw was more than happy to milk the publicity at the time, but now he has realised that his comments have not gone down too well with is own constituents. It is pretty desperate stuff to be apologising on the eve of a General Election when he has had plenty of opportunity to do so in the past."
This is the same Philip Davies whose response to a 2007 legal ruling that Muslim women would be allowed to wear the veil in court was: "People are entitled to see what is going on. All this pussy-footing around, judges have no comprehension of the damage they're doing for community cohesion by coming out with this barmy stuff."