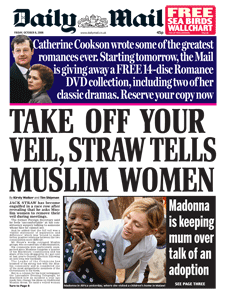 Cabinet Minister Jack Straw today waded further into the row over his call for Muslim women to remove their veils by saying he would like the garments to be discarded altogether.
The former Foreign Secretary sparked controversy when he revealed that he asks female visitors to his constituency surgery to uncover their faces, to improve "community relations". But asked on the BBC if he would rather the veils be discarded completely, Mr Straw said: "Yes. It needs to be made clear I am not talking about being prescriptive but with all the caveats, yes, I would rather."
Last night, Muslim leaders in the Commons Leader's Blackburn constituency said many Muslim women would find his comments, originally made in his local newspaper, "offensive and disturbing" and Respect MP George Galloway demanded his resignation. But Mr Straw said the increasing trend towards covering facial features was "bound to make better, positive relations between the two communities more difficult".
Associated Press, 6 October 2006
Straw's Lancashire Telegraph article is reprinted in the Guardian, 6 October 2006