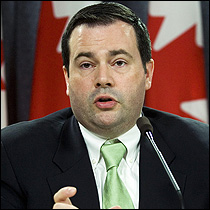 On March 18, 2009 the Canadian Minister of Multiculturalism and Immigration, Mr. Jason Kenney made good on his threats to cut funding for Canadian Arab Federation (CAF) programs that help settle newcomers to Canada. The Toronto Star reported that neither of the two [Language Instruction for New Canadians] contracts with CAF "will be renewed, Alykhan Velshi, director of communications and parliamentary affairs, said in an email." In the same article, Mr. Kenney also referenced this decision by stating that "he is an 'unapologetic supporter' of Israel".
A few days earlier, it was reported in the National Post on 3/14/2009: "Immigration Minister Jason Kenney says the Canadian Arab Federation will have to change its leadership and adopt a more moderate stance or risk losing federal funding… Mr. Kenney said taxpayers should not be footing the bill for an organization whose leader 'promotes hateful and extremist views.' Mr. Kenney said there are many moderate organizations that could do the job… He suggested the decision could be reversed if more moderate leaders were in place."
The message was bluntly stated – either put leaders that we approve of or else funding will be cut. It should be noted that this was not funding for CAF itself, as the leading Arab Canadian organization, but rather monies to assist new immigrants as they transition to Canadian society.
However, Mr. Kenney has been on a crusade for the past two years (his estimate) to slander, discredit and dictate to Arab and Muslim Canadians who they can choose as their leaders. This crusade was conducted with the open support of Canadian Zionist organizations and is in the context of current Canadian government policy to defend Israeli human rights abuses and war crimes.
Mr. Kenney, in his speech at the "Anti-Semitism Conference" at Lancaster House, London, England on Feb. 17, 2009 slandered the Canadian Arab Federation and the Canadian Islamic Congress as "organisations that either excuse violence against Jews or express essentially anti-Semitic sentiments" and express "hateful sentiments". He reached this conclusion without any factual proof or evidence.
As if Canada does not have enough difficulties with racism against people of colour, now we have the Canadian Minister of Multiculturalism contributing to hatred and bigotry against the Arab and Muslim people. Mr. Kenney, his government and his Zionist friends should be held responsible for any increase in anti-Semitism, anti-Arab racism and any Islamophobic act.
Hanna Kawas at Mostly Water, 21 March 2009
Yes, that's the same Jason Kenney who has banned George Galloway from entering Canada.
See also George Galloway's piece in the Guardian, 21 March 2009