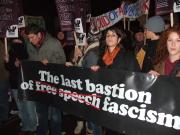 Jewish and Muslim student leaders at Oxford University have expressed hopes that their co-operation in trying to stop the David Irving-Nick Griffin debate on free speech on Monday night will herald a new relationship between the two groups.
Their members were among up to 2,000 banner-waving, chanting demonstrators who besieged the Oxford Union buildings for four hours in the centre of the university city. A sit-down protest blocked the narrow entry gate to the Union and stopped many of the sell-out audience from getting in.
The Union of Jewish Students and Oxford University's Islamic Society carried a huge banner marked with the symbols of both organisations. Some Muslim demonstrators carried posters proclaiming "Hands off our Jews", while the Jewish Society carried others saying "Hands off our Muslims".
Jewish Society president Steven Altmann-Richer said: "Ironically, the first event we held with the Islamic Society was last term when someone from the Muslim Council of Britain talked to us about the dangers of the BNP."