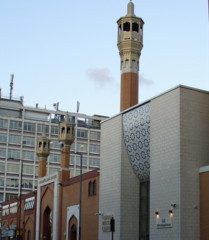 A bridegroom has accused Jim Fitzpatrick, the farming minister, of "politically hijacking" his wedding by publicly criticising the traditional Muslim segregation of men and women at the ceremony.
Bodrul Islam said he was "amazed and shocked" that Mr Fitzpatrick had used his wedding to make a political point about radicalisation and social integration. The 28-year-old said it would have been "common courtesy" for his local MP, who left the ceremony after being told he could not sit with his wife, to respect his religion's customs.
Mr Islam, who is a Labour supporter, is now calling on Mr Fitzpatrick to apologise for the embarrassment he has caused to his family. "Please apologise for the fact you have hijacked an innocent wedding," he said.
Mr Islam married Mahbuba Kamali, a 24 year-old investment banker, in front of 800 guests at a ceremony held in the London Muslim Centre, next to the East London Mosque, on Sunday. As is common with many Islamic weddings held on mosque premises, the event was segregated with men and women sitting in different rooms.
Mr Fitzpatrick, the MP for Poplar and Canning Town where a third of voters are Muslims, did not know the couple personally but was invited by the bride's father. When he and his wife Sheila, a GP, were told by someone outside the couples' families that they would be separated, they left the event.
The wedding party was keen not to offend Mr Fitzgerald so a local Labour councillor rang him up and invited him to come back, saying there was a table where non-Muslims of different sexes could sit together. But instead the minister contacted his local newspaper to tell them he was "disappointed" by what had happened.
Mr Fitpatrick said he had never meant to insult Mr Islam and his family and had left the wedding as discreetly as possible to avoid causing a scene. "My beef is with the IFE and the undue influence they have over the social, cultural and political aspects of the mosque. They are the militants of the 21st century, they are religious zealots with their interpretation of the Koran and I think this has now been exposed."
Daily Telegraph, 15 August 2009
---
The Torygraph is facing two ways on this issue. On the one hand, it wants to cause the maximum damage to Jim Fitzpatrick's prospects in the next general election. On the other hand, it has to cater to the anti-Muslim bigotry of its readership. So this sympathetic coverage of the upset caused to a Muslim couple by Fitzpatrick's ignorance and stupidity is followed up with an article by Alasdair Palmer headlined "Why must we bow to the intolerant ways of Islam?"