Organisers of an event on Holocaust Memorial Day in Ipswich have been criticised for inviting Tommy Robinson, the former leader of the English Defence League, as a guest speaker. The event on Monday, January 27, was originally planned to take place in conjunction with the Education Quarter Multi Faith Chaplaincy at Suffolk New College and University Campus Suffolk.
However the colleges have since disavowed themselves entirely from the talk and organiser JIMAS has decided to proceed independently. Muhammad Manwar Ali of JIMAS, who is also a fellow of Suffolk New College and a member of the chaplaincy for SNC and UCS, said it would be a "solemn occasion" to mark the Holocaust.
It is not yet known where the event will take place. Other speakers will include Holocaust survivor Frank Bright; Pat Magee, who was convicted of planting the IRA's Brighton Bomb; and Umme Thara, a former member of Al-Muhajiroun. Mr Ali said the idea behind the talk was to get those involved to make a "clear cut commitment against anti-Semitism and any kind of hatred and genocide. We've all been on a journey and we want to give a powerful message from ex-radicals to say they're rejecting it and say 'never again'."
Unite Against Fascism (UAF) wrote to the college urging them to cancel the talk. Weyman Bennett, joint national secretary of UAF, said: "This is not a gathering to pay respect to the millions of Jewish people murdered by the Nazis in the Holocaust. We call on the organisers to withdraw their invitation to the former EDL members."
Olivia Marks-Woldman, Chief Executive of the Holocaust Memorial Day Trust, said: "Local Holocaust Memorial Day events are organised and led by local activity organisers, for local communities. The Holocaust Memorial Day Trust provides resources, support and guidance to help plan successful activity. We do not 'approve' events and do not tell local activity organisers what to do. However, we made it clear to organisers of this event that Mr Robinson's presence may detract from the central messages of Holocaust Memorial Day. Ultimately, any decision to cancel the event is made by them."
---
Of course, if Stephen Lennon ("Tommy Robinson")  had condemned the EDL, and engaged in a serious self-criticism over his role in leading and inspiring this mob of racist hooligans, that would be a different matter. But we know that Lennon hasn't done this. Here, from only five days ago, is his indignant response to a critic who had accused him of denouncing the EDL:

Then again, it's questionable whether this convicted criminal will be available next Monday to attend JIMAS's event. Tomorrow Lennon is due in court for sentencing after pleading guilty to mortgage fraud.
Update:  "Tommy" has been sentenced. Looks like he won't be visiting Ipswich or anywhere else for quite a while: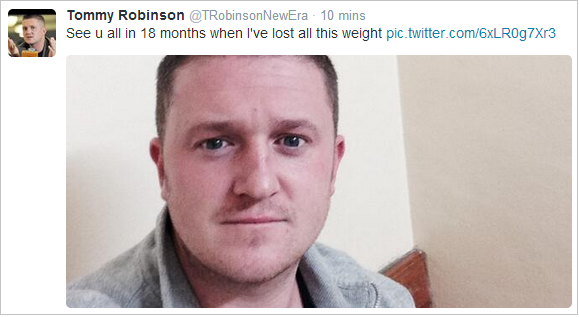 Update 2:  See "Tommy Robinson, former EDL leader, jailed for fraud", BBC News, 23 January 2014