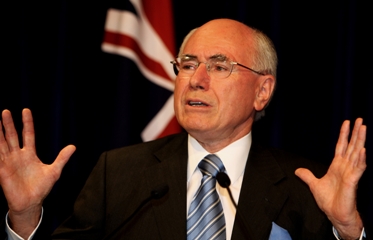 Australia's former prime minister John Howard has attacked "multiculturalism" in English-speaking nations, saying that some sectors have gone too far in accommodating Muslim minorities.
The blunt-talking conservative, who led Australia for 11 years before losing 2007 elections, said Tuesday on a visit to Washington that the "Anglosphere" needed to take greater pride in its values and achievements.
"This is a time not to apologize for our particular identity but rather to firmly and respectfully and robustly reassert it," Howard said at the Heritage Foundation, a conservative think-tank.
"I think one of the errors that some sections of the English-speaking world have made in the last few decades has been to confuse multiracialism and multiculturalism," Howard said.
Howard pointed in particular to Britain, whose Muslim community came under a spotlight after the 2005 bombings on the London transport system.
While in office, Howard faced criticism from his opponents that he aggravated anti-Islamic sentiment through tough anti-terrorism laws and tighter immigration controls, including a test on "Australian values."