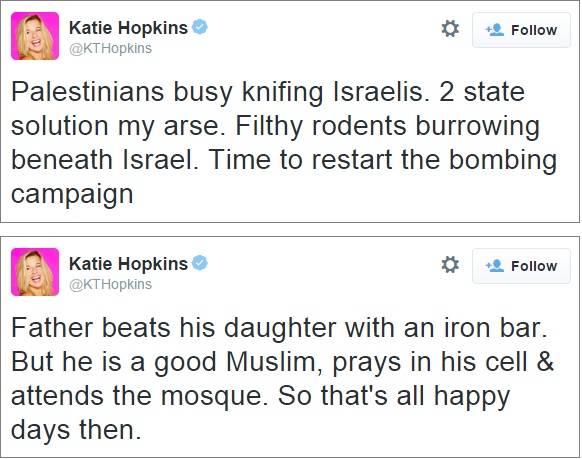 Katie Hopkins latest Twitter posts has led to calls for her ARREST for stirring up racial hatred.
The former Apprentice contestant posted a series of anti-Muslim posts on her account after reports of the stabbings in Tel Aviv apparently carried out by an Arab man on two Israelis, including one that labelled Palestinians "filthy rodents".
"Palestinians busy knifing Israelis. 2 stage solution my arse. Filthy rodents burrowing beneath Israel. Time to restart the bombing campaign."
"Arab terrorists fired rockets from schools and hospitals. They brought down Israeli fire on to their own people. See behind the pictures."
It isn't clear if the former reality star posted the comments herself or was hacked – although the offensive tweets remain on her account.
The mum-of-three also posted a number of anti-Islam tweets to her 244,000 followers while watching Channel 4 show 24 Hours In Police Custody.
"Father beats his daughter with an iron bar. But he is a good Muslim, prays in his cell & attends the mosque. So that's all happy days then.
"The police are singing from the same hymn sheet. Mohammed is going DAAAAAAN. Allahu Akbar. #24hoursinpolicecustoday."
Angry Twitter users then bombarded the controversial columnist, calling for her to be reported to the police for inciting racial hatred.
One tweeted the Met Police asking: "@metpoliceuk why is @KTHopkins allowed to incite religious hatred, hate crime?"
Another said: "Regardless of your stance on the palestine/israel crisis, Katie Hopkins inciting hate should be prosecuted, same as other hate preachers [sic]."
A handful of people have also sent tweets to David Cameron.
"@KTHopkins What a vile woman. U are a disgrace to women. Inciting hatred. Somebody should report this imbecile!"
"Someone please call the police and report @KTHopkins for inciting genocide."
And: "Katie Hopkins inciting violence against Palestinians? She is hateful & uses anti-muslim sentiments to promote herself."